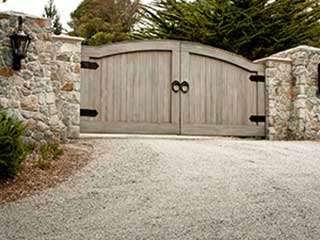 If you're looking to add some timeless appeal to your home, then a wooden gate is a great addition to the driveway. Our range of real timber gates lets you improve your Highland Park property. Add style and class, while also making your home more secure and private than before. Our expert technicians are on hand to provide advice and guide you through our wide range of different products. To find out more about our stunning range of wooden gates, simply get in touch with Gate Repair Highland Park today for a free quote.
Affordable New Wooden Gates
Making dramatic improvements to your home doesn't have to be costly. When you choose one of our custom wooden gates, it's easy to design the exact style that suits your property. Thanks to our many different options, you can pick out gateposts, pickets, and panels that suit your needs precisely. Our wide range of styles includes bi-fold and three-quarter sized gates, as well as wooden driveway gates. No matter what you're looking for, our Highland Park-based team of specialists will help you find it.
Why Choose A Wooden Driveway Gate?
Wood is an exceptionally popular material for custom driveway gates. That's because it's undeniably attractive, bringing timeless appeal to your home. But there's more to it than that. Wood is also a very practical material since it lets you easily block off sightlines into your home with large panels and pickets. That's hard to do with other materials and is a big reason why we recommend custom wooden gates to Highland Park residential and commercial property owners. It's important to be aware that wood needs to be regularly maintained, including painting and sealing against moisture. Otherwise, your wooden gate may rot or warp. Taking good care of wood will make this material last far longer than you expect. Proper wood panel, post, and fence maintenance will keep your driveway gate looking great for many years to come.
Wooden Gate Repairs At Cheap Prices
Because we're the local Highland Park-based gate experts, we offer a full range of repairs for any gate problem. If your gate isn't opening smoothly, or won't shut properly, then our technicians can help. Similarly, our team is ready to solve issues like sagging, warping or rotting wooden gates. Gate post repairs are no problem, and we can even replace rotten posts. If you have a problem with your gate, our team is ready to help. Just get in touch today to arrange fast and cheap gate repairs anywhere near Highland Park.
Highland Park Wooden Gate Installation Experts
We install wooden gates of all types and sizes across the Highland Park area. Whether you're looking for a sliding wooden gate or a custom bi-fold, we are the team you need. Our expert technicians will work with you from day one to design the perfect custom wooden driveway and will carry your project through to completion. Why not get in touch with us today to find out how we could help you?