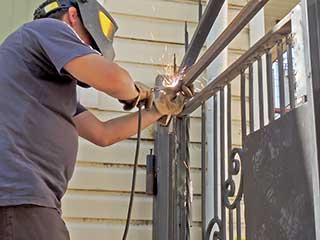 Keep your property safe from intruders and prying eyes. Our range of high-quality gates gives you all the options you need to protect your home. Choose the perfect design in a huge range of different materials. We can provide everything from a custom iron gate to a stylish real wooden one. Find out more about the choices we offer and get a free quote by contacting Gate Repair Highland Park today.
Custom Gates and Fences
We specialize in providing high-quality custom gates. You might want a wooden garden gate to enhance your backyard. Alternatively, you may be looking for a strong, sturdy steel driveway gate. In either case, we offer the same high level of customization. Our experienced technicians will give you all the information you need to decide on the best combination of design features. Of course, we also offer new steel, wood, iron, and even chainlink fences, in custom designs to suit your needs. Our Highland Park gate installers offer a personal touch, with free estimates available across the local area. Just contact us today to set up your free, no-obligation appointment.
Low-Cost Wooden Gates
Wood is one of the most popular materials for gates, and it's not hard to see why. Many Highland Park homeowners choose custom wooden gates because it's such a good-looking material. There really is something about timber that increases the curb appeal of any house. Of course, good looks aren't the only reason to go with a wooden gate for the driveway. If it's regularly painted and maintained, wood is also a very strong and sturdy material. Just be sure to schedule regular maintenance appointments to ensure your wooden gate stays in top condition.
Best Iron Gates In Highland Park
When you want to make a real impression, choose a custom iron gate. Visitors will be impressed by the sheer beauty of your home's entrance. You can also be sure that no-one will be able to break through since iron is one of the strongest and toughest materials around. It's worth bearing in mind that iron gates are heavier than most other options, which can make them more costly. You should also be aware that iron needs to be carefully sealed against moisture, or it's likely to rust.
Steel Gates For Better Security
If you're looking for long-lasting strength, then a steel gate is a great option. Steel is strong and relatively light, making it an ideal option for protecting your Highland Park home. You'll also get access to a wide selection of different designs, making it easy to tailor your new gate to your existing property. If you're looking to block line of sight, however, steel gates may not be the right choice. To keep weight down, steel gates aren't usually made in a single sheet.
Gates For Driveways & More
We've only scratched the surface of our range of garden and driveway gates. We offer quality materials and constructs, from wood, iron, and even including chain link gates. Get in touch with our Highland Park -based gate installation specialists to get a free quote on the type of setup you want for any nearby business or home.