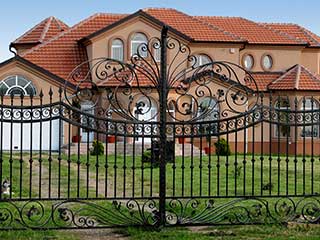 An iron gate in your Highland Park driveway that won't open and close can turn your home into a prison. Even worse is when you can't get in. The problem could be with several things like iron gate hinges or even things like tracks or the motor. Gate Repair Highland Park is the local service provider to fix anything that goes wrong with your iron driveway gate. We do welding work as well as opener troubleshooting and hinge replacement. Our iron gate repair service is the best in the Highland Park area. We have fully qualified technicians who use the most advanced techniques in getting quality repairs done fast and at the lowest costs around.
Fast Iron Gate Repairs
Unless your iron gate has been destroyed, we can fix it. Whether you have a motor that won't open or close your driveway gate, bent iron bars or other hardware damage, we can have your gate fixed in no time. We can replace iron gate bars that seem beyond repair, check the tracks, wheels, motors and any other part of the system. No job is too big, or too small in getting your Highland Park iron gate safe and secure again.
Quality Iron Gate Installation
At Gate Repair Highland Park, we only use quality materials in the construction and installation of our custom iron gates. Quality allows the system to last far longer than expected. That means, when your new iron gate installation is complete, you'll have a great quality sliding or swing gate that your neighbors will drool over. We have a great range of iron gates and fences for you to choose from, but you can also call us to help you arrange a custom installation. Iron gates are heavy, so consider adding a remote operated motor to do the heavy work for you. The bonus with an automated iron gate is that you won't need to leave the comfort of your cozy home to let family and friends into your property. Simply hit the remote control and greet them at your front door.
Accidental Gate Damage
Did you sneeze as you were driving through your iron driveway gate? Or perhaps your old uncle was wearing the wrong glasses when driving? These and similar mishaps can and do occur and you may be looking at your damaged gate in total misery. Before you curl up and cry, call us at Gate Repair Highland Park. Our qualified repair team will replace and parts that have been damaged irreparably and quickly repair any minor damage. We'll get your iron gate looking just like new again. Our repair service is fast and the quality of our workmanship is second to none.
Free Quotes On Iron Driveway Gates
Don't waste your valuable time with any old iron gate repair company, when the best is just a phone call away. As Highland Park's closest gate repair specialists, we can repair any damage or fault with your iron gate in next to no time. We offer our services on a 7-days a week basis. That applies not just to emergency repairs. You can also get in touch with us for free estimates on new custom iron gates and fences. Call anytime for affordable solutions and expert consultation.