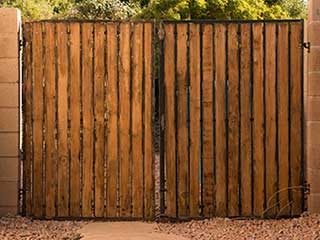 As homeowners, we want to make sure that we know our stuff when it comes to buying anything for our home:
Is this furniture durable? Is it child-proof?
Is the fire prevention system in my home workable?
Is the house I am buying safe & fire proof certified?
Are my locking and gate systems safe and secure? Is the plumbing leaking anywhere?
All these things make us want to know more or at least know enough, so we do not get duped or purchase the wrong kinds of things or sign up for something that isn't benefiting to our home or family.
The same goes for buying gates and security systems for our homes. If you are in the midst of scouting for a wooden gate, here are some handy tips:
Which Types of Gate should I buy?
There are two types of gates:
Softwood Gates: More economical but not as durable, but that doesn't mean it is here today and gone tomorrow. Your softwood gate can be enjoyed for years to come with proper product care. So if you are looking to buy wooden gates, balsa wood is a great option.
Hardwood Gates: More durable and have a better aesthetic quality. Hardwood is much more pricey but already comes with a classy look and is long lasting and durable.
Should I get Standard Gates or Made to Measure?
Most new residential projects come with standard size driveway and entrance measurements, so it's a lot easier to go 'shopping' for gates. Of course, standard ones are bought 'off-the-shelf' and are usually mass produced, so they is not unique.
If you wanted something unique and made only for your home, then made-to-measure gates are best. It will not only look impressive on your property, it will be something unique and different.
Mass produced or made to order?
Another element to consider. Some companies make wooden gates in vast quantities. This is what it means to be a mass produced gate. One that is already available in varying shades of wood and finish. If you are looking for a one in a shorter time frame, then mass produced wooden gates are your best bet.
However, if you have more time to consider installing a new system, then a made to order one would work great as well. You will have your gate built and fitted to meet your driveway requirements and measurements. You can also select its shape and size and include any other design elements in it to make it look unique.