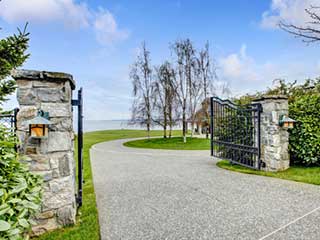 Consistency in quality has been our priority since day one. When it comes to residential gate repair and replacements, we believe that our company has the best tools and technicians for the job. Genuine professionalism, unparalleled efficiency and timely execution of plans define the work of our technicians who are some of the leading experts in the field.
Why Our Services are Exclusive
Our services are designed to restore the function of all kinds of residential security gates. The expertise and experience of our professionals make our services incredibly cost-effective and convenient for a variety of clients. We take into account each and every flaw in the residential gate and all your requirements before preparing the perfect plan for the project. The following are some of the main services that we currently have on offer for anyone who is worried about getting locked in or out of their homes:
Aligning the Gate
Gate alignment is needed when there is a serious problem of wear and tear. Gates are exposed to the outdoors 365 days a year. Unless they are maintained regularly, it is likely that they will get worn out within a few years of installation. In some cases, it takes only a year for the flaws to surface. Under such circumstances, the most recommended solution is to opt for a gate alignment. Our professionals have mastered the art of aligning gates to perfection. An alignment service is sometimes all that is needed to avoid a complete replacement.
Fixing the Intercom System
Most people do not realize the significance of having a fully functional intercom system. In the event that the intercom stops working, your residence will be exposed to a heightened risk of a potentially dangerous breach of security. If that scenario terrifies you, then you should by all means get your intercom repaired as soon as it stops working properly. Our professionals are equipped with the right tools to fix the intercom system and get it working again.
Repairing the Gate Opener
Residential gate openers are responsible for making electric gates move. They contain a receiver and a control box where the signal from a transmitter is processed to initiate the movement of the gate. If something goes wrong with the gate opener, then it would be difficult for you to get in or out of the house. This is particularly true for automatic residential gate openers. Thankfully, our professionals are experts at solving this problem and fixing the flaws in a gate opener.
Get Your Residential Gate Repaired Today
There is no point in waiting for the problems to go away. Flaws in your faulty or worn out gate will only worsen with time.
Give Gate Repair Highland Park a call today and we will send over our team for a thorough inspection.
In addition, count on us for:

Linear Remote

Swing Gate Operator

Program Doorking Intercom

Same Day Emergency Service