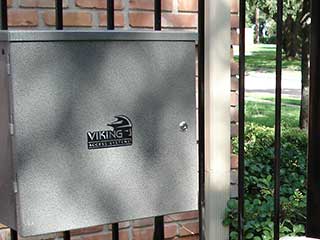 We're the local experts to call when you need the perfect opener to accompany your security, garden or driveway gate near Highland Park. No matter what type of system you have, we have a gate opener that can add security and convenience (WI-FI connectivity). Our fully skilled installers will ensure everything is properly aligned to give your gate opener the ability to work smoothly and efficiently. We have many different types of gate openers from leading brands such as FAAC, LiftMaster, and Doorking, to name a few. No matter how your driveway gate is set up, whether it swings, slides or lifts, we've got an opener for it. New gates or existing ones, we'll take care of you.
Articulated Arm Openers
If you have one of those majestic looking gated entrances with huge columns, an articulated arm gate opener is most likely going to be your best choice. An articulated arm opener has a hinged arm that can extend beyond the column to smoothly open and close your gate. While these gate openers are great for those hard to reach gates, they often come with lower warranties due to more wear and tear from the extending arm. However, articulated arm openers can work successfully with single or double gates. This makes them a very popular choice for people looking for gate openers in Highland Park.
Double Gate Openers
If you have a particularly large gated entrance, you may need to consider installing double gate openers. This also means your gate will consist of two halves that will open in tandem with each other. You will very easily be able to open both gates and with some models, you can also open the gates individually which is great when you want to grant access to pedestrians. Double gate openers work with swinging or sliding gates making your choices a lot simpler.
Linear Ram Gate Openers
The most popular type of openers for gates are the linear ram gate openers. The simple design makes them easy to install and operation is often quite smooth. There are two main types of linear ram gate openers. There is the electromechanical linear arm opener or the hydraulic version. Both types rely on an arm attached to the gate and the opener. In many cases, there is also a stopper installed to set a limit for the gate when it is opened. FAAC is the most commonly installed hydraulic linear arm gate opener while LiftMaster is the preferred manufacturer for electromechanical models. Whichever you choose, you need to consider the size and weight of your gate. That, and the amount of power needed to operate the opener with as little resistance as possible.
Install A New Gate Opener in Highland Park Or Near
When you're ready to have your gate opener installed, call our team here at Gate Repair Highland Park. We can show you the best gate openers available and ensure installation is completed so that everything is properly aligned and working perfectly. Don't take chances with sub-standard gate openers or technicians that are anything less than the best. Call us today and have your new gate opener working for you in a matter of days. Keep in mind – we also offer repair services for openers of all types, 7-days a week. So get in touch with us for affordable repairs with top-quality results.
Count on our team for:

Wrought Iron Gates

Gate Remote Program

Aiphone Gate Intercoms

Swing Gate Post Repair