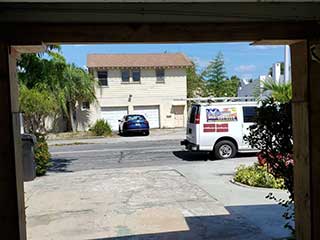 If you own an automatic garage door, you probably know how convenient this type of system can be. However, when it breaks down due to some reason, it can be incredibly annoying, and potentially even dangerous. That's why you need to contact our team as soon as you find yourself facing a problem with this complex mechanism.
Professional Opener Repair
The motor unit that powers the operation of your garage door is very similar to the one that your gate system uses. Our technicians specialize in fixing everything from broken motor gears to malfunctioning circuit boards, and we can also make sure that the system is safe for you to use by checking and realigning the photo eye sensors. Without a functional opener, you'd have to resort to using your door manually, which will be very time consuming. Just let our experts know you need some help, and we'll have your opener as good as new in no time.
Different Hardware Problems
A garage door that got off track and got stuck can be very dangerous, as the springs and cables are under extra strain, and the panels could end up collapsing. Fixing this situation, which often entails repairing bent tracks or replacing damaged rollers, can be very complex, so we urge you not to try to handle this type of scenario on your own. We'll be happy to take care of such issues for you.
Broken Spring Replacement
The parts that bear most of your door's weight have a finite lifespan. That means that eventually, even with proper maintenance, they will end up breaking. Replacing the springs after they break, or even before that happens, can be terribly dangerous, as these components are under a lot of stress, and they can cause serious injuries if they are mishandled. Our technicians have all the necessary experience and technical skill to carry out this type of work both quickly and safely.
Give Us a Call
Don't take unnecessary risks by trying to fix a problem with your garage door by yourself. That's what our experts at Gate Repair Highland Park are here for. Call us as soon as you discover something wrong, and our technicians will quickly come over and fix it.